Hello everyone and welcome to another monthly wrap-up. How was October for you? Mine was okay-ish. Just the same things, study, kpop , read, sleep and repeat. At this point even stepping out feels like an adventure.
This whole COVID situation doesn't seem to get better at all and the government is opening up everything as if everything is back to normal (trust me its NOT)
All that aside, all the books I read this month were either 4 or 5 star reads which made this one of my best reading months. There were also too many kpop comebacks which my two braincells couldn't keep up with.
So without any further ado, lets take a brief dive into my October!
Reading
All these covers are blue and prettier than I can ever be
The Puppetmaster's Apprentice (★★★★☆) – LOOK. AT. THAT. COVER. The story and the writing was just as pretty. I was on a bookstagram tour for this book and I really enjoyed this spooky retelling. [picture]
Cinderella Is Dead (★★★★★) – This was *chef's kiss* I absolutely loved this and had a great time buddy reading this with my friend Aanya.
Flying Over Water (★★★★★) – I found another book which I wont stop screaming about so get ready to read ramblings on my new favourite middle grade novel.
The Wolf And The Water (★★★★☆) – This was a great historical fiction novel which I was lucky enough to receive an arc of! RTC soon!
Music
I am actually impressed! It has a chorus, proper line distribution and is hella catchy. Hope teddy keeps this up and actually lets the girls get involved in the music producing just like with this one!
Damn this song is addictive. And Jisoo says Blackpink In Your Area!! The choreography is a bit weird and awkward but overall this is a whole bop.
You Never Know is probably my favourite out of THE ALBUM. The lyrics had me. Literally one of Blackpink's best songs.
Can we talk about how revolutionary this is? The power this group holds is way too much.
This was such a fun song with such uplifting lyrics! If their pre-release is this good, I cannot wait for the album!
Okay but Twice's music is getting better every comeback. Jihyo's voice here is just too good. Love this.
I have no words. Just too good. breaking gender norms WITH good music is all we need right now.
This is just perfect.
Ari is back!! I always have high expectations for an Ariana Grande song and lets say I was disappointed the least. R&B? Yes please.
3 whole albums from my favs were released this month 🤯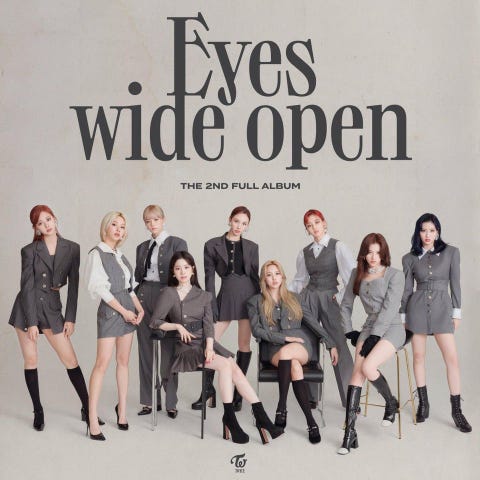 Favourite Posts From Others
What else happened this month?
A lot. Firstly I had my mid terms which went pretty well. Then there was MAP OF THE SOUL : ONE concert which I am still not over with. It was so good. Especially the Filter and UGH! performance. BTS, Enhypen and Mamamoo are all having their comeback next month which I don't think I would survive.
BTS also appeared on Indian television!! Honestly the chances of them coming to India are increasing!!
I finally worked on my notion and honestly, its amazing. Having a place where you can organise every single thing is amazing.
Goals check in.
Score Good Marks ❔ (the marks aren't announced yet lol)
Read atleast 4 Books ✔ (I read 4 and half books!)
Try to post atleast once a week ❌ (didn't work out but that's fine)
Do Korean everyday. ❌ (I did it for like 15 days)
NOT PROCRASTINATE. ❌ (I told you I always fail at this one)
Goals for next month.
Pay attention to classes and take notes.
Make use of notion
Do Korean everyday
Read atleast 5 books-
>You Should See Me In A Crown
>The Poppy War (lets see how this goes)
>They Both Die At The End
>The Henna Wars
>The Night Circus (giving this the 6th and the final chance or else dnfing it)
Post regularly on blog and on bookstagram
Anyways,
Thank you for reading! If you enjoyed this post, don't forget to leave it a like (or rate it) and follow my blog for more!
How did October go for you? What did you read? Any favourite songs? Let me know in the comments.
Till Next Time, Stay Safe!
Signing Off,